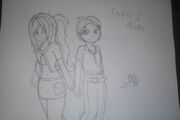 Царлито анд Оливия (Russian for Carlito and Olivia) is an upcoming story written by AngelinBlack424 which will be facing the possible chances of being published. The story started on December 3th 2013, and is so far unfinished.
The first book, Carlito is 13 and is normally Thirteen. However something suddenly happens to the school principal and gets killed (event not decided yet). It was Carlito who had done it (somehow) but no one can find any evidence proving Carlito had done it. So instead they imprison the Principals Wife for blame. When Carlito is sixteen his life continues, pretending nothing even happened. He finally decided to meet his mom in the mental hospital who parades over The principals death because "She hated that bastard anyway". Than Olivia gets into some issues and Carlito finally gets a girlfriend. When Carlito becomes twenty, he marries his new wife and becomes part of the Law Enforcement team as one of the best investigators and policeman hired. But Carlito feels guilty as he had killed the principal and is wanted for his crimes, but the police only know him as a hero. During the end, Carlito confesses the murder of the school principal, and the news is smashed with news headlines. He is sent to jail for six years for Murder and Hiding it. Which than explains that this entire story was written by him while he was in the jail cell.
Characters
Edit
Main Characters
Edit
Carlito Olviro (Main Character, Narrator)
Olivia Arica Olviro (Big Sister)
Justice Olviro (Father)
Melinda Elica Olviro (Mother)
Minor Characters
Edit
James Cooper (Son of Jameron, Olivia's Boyfriend)
Jameron Abigail Cooper (Mother of James)
Principal Andrew Rene (Principal of The Middle School)
Janet Perezinski
Pandella Rene (Daughter of Andrew)
Nickolai McDonald (Part of the Three Nicks, possible name change)
Nicholas Perezinski (Cousin of Janet, part of three Nicks, possible name change)
Nik Leondra (Part of Three Nicks, possible name change)
Catherine Olviro (Brother of Justice, possible name change)
(More Characters Pending)
Community content is available under
CC-BY-SA
unless otherwise noted.