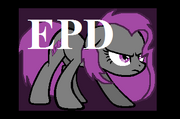 EpicPonyDrawings is an individual channel created by AngelinBlack424. It was created in November 13th, 2012. The first video was created and was uploaded as "Drawing My MLP OC "Marisa'"
The main goal for the channel is to improve others' drawings and capabilities in creating pony fan characters or canon ponies.
EpicPonyDrawings had first been created as a small meaningless drawing channel provided with two or more drawing videos to occupy time. Strangely and suddenly, subscribers started to build up, and so now EpicPonyDrawings is one of the most known Pony Channels on YouTube to improve Pony Art. The channel takes requests from other users, of drawing both fanon and canon characters provided by the ones requested or the actual television series
My Little Pony: Friendship is Magic
. EpicPonyDrawings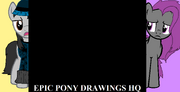 also provides gaming videos to celebrate holidays and special occasions such as birthdays and other personal events. Games she plays involve such as
Call of Duty: Black Ops Zombies
,
Guitar Hero
,
Minecraft
, and other future video game videos to come.
Finally, on June 14th of 2013, The channel and it's subscribers had nicknamed themselves EpicPonyArtists, and had been declared to agree on creating a wiki for the channel.
The Shutdown
Edit
After December 2nd, 2013, the YouTube channel EpicPonyDrawings had been forced into shutdown due to parental issues. The videos, obviously, have stopped uploading and it is unknown when Epic will where receive the rights to use her YouTube channel again.
The Beginning of EpicPonyAnimations
Edit
Sometime in the near future, after a few years, Epic will be returning to YouTube with independent rights and will create a brand new YouTube channel named EpicPonyAnimations. This channel will contain various multiple animation videos for her pony fan characters, friends fan characters, and other artwork, like her non-copyrighted artwork such as her cartoon dragons and people. However, this will take time once the shutdown starts to calm down and Epic can safely return.
Community content is available under
CC-BY-SA
unless otherwise noted.