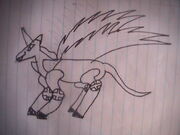 this is an evil clone of psy-oh who wants to kill him and take his place.
Psycho was in a great battle with chrysalis and got cut so then after the battle chrysalis with help from Nega discord made a copy of psy-oh and he turned out to be purte evil he's still a part of chrysalis's army but goes wild to kill psy-oh.
Psy-Oh
he is his only enemy because he wants to take his place beause he is his clone but he thinks psy-oh is the only one and he is the true psy-oh.
1.Chrysalis
2.Nega Discord
3.Vamponies
4.wereponies
5.robo pinkamena
6.robo twilight
Community content is available under
CC-BY-SA
unless otherwise noted.