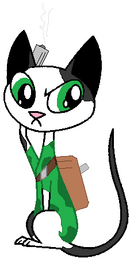 For the series story, look at the unfinished  written version of the series.
Oreo Military Cat is a small series created by EpicPonyDrawings in 2010. It was than restarted in the early 2013 year and was with more added characters. The cat creation picture were bases made by Phoenixkatfury, and they are shortly based off of the Kid Vs. Kat series design of the alien Kat. The show is also a reference short spin-off of the Call of Duty: Modern Warfare video game, the main character from their is the military soldier Ghost.
In the modern world war, Oreo as a small kitten when he was taken into war and was trained by the military soldier Ghost. For the long time, he was their spy, and continued fighting and training with his owner. However one unfortunate day, Ghost was killed in one of the operations, and it left Oreo alone. After witnessing the death of his trainer and owner, he ran from the military base.
Oreo now lives with Panther and continues to defend his home and go on adventures with his military instincts. With Panther as his sidekick, they continue to take on adventures by themselves.
Scene Comic Pages
Edit
Oreo the Military Cat is actually based off of EpicPonyDrawings' Pet cats. Epic used to have a kitten named Oreo with white and black spotted colors before he ran away. She still has her Cat Panther, however, who she still lives with (at her mothers house). Epic created this comic story series a week after Oreo ran away as a tribute to him.
Community content is available under
CC-BY-SA
unless otherwise noted.