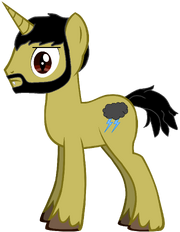 I am a person that lives on the eastern coast of the United States of America, in Florida. I am eighteen years old, and I am a senior in the high school that I attend. I am currently in the U.S. Army JROTC program, rank Cadet Major (C/MAJ), pay grade O-5 (I don't get paid), which means that I am a commissioned officer. I used to be the battalion S-4, or the Supply/Logistics Officer. After high school, I plan to go into the U.S. Army Reserve for a year, and then enroll into college, do Army Senior ROTC, then be commissioned in the U.S. Army as a second Lieutenant (2LT), pay grade O-1. I am a man of few words, so if I comment on a page or something, then there is not going to be a lot of words typed on there, unless I type a lot of words on there. To the right you will see my first OC and ponysona, I made him physically resemble me in a few ways, one of them is his blank expression, which I usually have on my face.I am a PC gamer, I usually play a lot of games on my gaming rig, I use Steam to play most of the games that I own, if you want to talk to me on Steam, my name is Agent Nikolai | NNJG, I also use Origin, my name on there is Agent_Nikolai(or Agent Nikolai, I can't really remember.) I also play on my Xbox 360, my gamertag is Agent Dimitri(Agent Nikolai wasn't availiable). Again, I fixed it, so I am on during the day. I am also a BIG Halo and Deus Ex fan. I also have ADHD-PI, or ADD.
Building PC's.
My Little Pony: Friendship is Magic.
Twilight Sparkle.
Seven.
Spicy Food.
PC Gaming.
Black Pepper.
Cran-Grape juice.
Halo.
Every Halo OST.
Gaming.
United States of America.
United States Military veterans.
United States Army Junior Reserve Officer's Training Corps.
Bullies.
Stupidity.
Laziness.
People who waste their time hating on Bronies.
People who waste their time hating MLP.
Mondays.
School (somtimes).
Paranormal stuff.
Crime.
Jameron.
Original Characters
Edit
These are the OC's that I have created so far. Names in red are OC's that will be added to the wiki eventually.
Earth Ponies
Edit
The Elemental Five were born on the seventh day of the month that they were born on.
The Elemental Five were based off a few characters from my favorite video games.
Create a lot of OCs (In Progress)
Recover Ling-Ling's head (In Progress)
Complete the OCs that I have already created (In Progress)
Create the page for the Elements of Creation (In Progress)
Put a lot of refrences to the number seven in everything that I write on the EPA HQ Wiki (Ongoing)
Do some other stuff (In Progress)
Community content is available under
CC-BY-SA
unless otherwise noted.