"Even if the world is against you, I will always do anything for you. Even if you are against the world, I will always do anything for you." - Unknown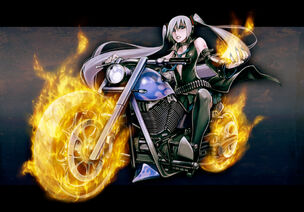 Hey! Welcome to my Wikia! Created for all of my great subscribers! I have created this wiki to express the quality of my YouTube Channel, EpicPonyDrawings, to let the ones be aware of my channel if they need help drawing their favorite pony!
If you would like to see the channel, it is located here.
Thank you, and if you have any questions, please contact me, or any of the other admins here! Thank you very much for finding this wiki and giving it a glance! I hope that my YouTube will be able to get people to become Epic Pony Artists!
Welcome to Mah Page!
Edit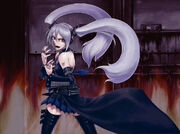 I am AngelinBlack424, but you may as well just call me Marissa, Marisa, or Angel for short. I post and chat each day, so you can talk to me whenever you feel alone. So far, I have lost everything I had. My Channel, My (now ex) boyfriend, my internet privleges, and my trust towards the Bronies Wiki, but no matter how much I'm in pain by this, it will not stop me. My Parents may have taken it all away, but I will never give up. Even if it takes me a few more years until I Become an adult.
In the future, when I gain the privleges, I will recreate a new channel named EpicPonyAnimations. So keep your hooves crossed. I welcome the most quietist of people here. Ask this guy, he has suffered my hyper-friendliness.
I also sometimes may do Grammar and Spell checking sometimes on pages, so don't be afraid if it shows that I am editing any pages of yours. It always itches me to fix misspelled words. (Sorry, I'm a Grammar Richtofen!). However, if you don't want me to edit anything of yours, just tell me. I don't mind the honesty!
Now this is probably something that I should point out, so that maybe we can become friends. Like I said before, you can just call me Marissa, Marisa, Angel, Zig, Ziggy, or AngelinBlack. I am okay with it. I am known to be very friendly at this site, and I welcome most new people when they join to post their OCs; like my best friends here.
To get more into the ponies subject, I am a HUGE Pegasister. Yes, I am female, which is something you never see on the internet; Female pony fans. I have the following:
THREE My Little Pony Posters
SEVEN Fan-Made Pony Posters
TWENTY-FOUR My Little Pony figurine toys
ONE My Little Pony T-Shirt
TWENTY-NINE My Little Pony Fan Characters
ONE My Little Pony Trading Card Box w/ Sticker Tattoos
EIGHT Pony-Filled Drawing Sketchbooks
ONE Elements of Harmony Reference Book
That pretty much adds up my pony insanity.
Ponies
Animals
Pizza
Nyan Cat
Vampires
Call of Duty: Black Ops Zombies (I'm a BIG Dr. Richtofen Fan)
Heavy Metal/Rock Music Gendre (Avenged Sevenfold, DragonForce, KoRn, Elena Siegman/Kevin Sherwood)
Making Cartoons
Writing my Fanfictions
Singing
Playing the Piano
Role-Playing & Everything Similar
Squirrels
Jeffrey the Walrus from Marcy the Vampire
Funyuns
Death Metal Vocaloid
Miku Hagane
Tuna Salad
Luka Megurine
Trolls that hit our wikia
Real-World Crime and Violence
Activison
Those who tease others by their differences
Pony Haters
Richtofen Haters
Myself (Sometimes)
Spicy Food & Snacks
Splitting up with significant others
The Minions from Despicable Me
How Sensitive my head is
Gym Glass
Novembers
Having people delete or edit my stuff without telling me
Dangerous People on the Internet
Liars
The Original Word Pronunciation of "Sammich".
Jameron
Love (Sometimes)
Life
Fathers
Brony Buddies
Edit
Agent Nikolai (Special Assistant)
InvaderVaX
Siete marmamrae
Mr. Sundowner
Ponies on the Wiki
Edit
Main Characters
Edit
Evil Villains
Edit
Minor Characters
Edit
Vampire Ponies
Edit
Other Pony Creatures
Edit
Pony Pets
Edit
Call of Duty Pony Crossover Characters
Edit
Older OC's I have Made
Edit
Other Posts
Edit
Fully Posted Stories
Edit
Other Sites & Sources I contribute to...    
Edit
EpicPonyDrawings - YouTube.com (No Longer Active)
Angel in Biack - Xbox LIVE
AngelinBlack424 - All Wikia Pages
AngelinBlack98 - Drawingnow.com
Community content is available under
CC-BY-SA
unless otherwise noted.